SIMaD
SIMaD offers you a total package for the effective management of all your signposting that contributes to a reliable traffic management. SiMaD offers you a variety of ways to manage, analyze and manage your road traffic signs.
You can use SiMaD to manage all your signposting activities:
Managing your inventory
Designing signposting plans for:

Events
Reshaping
Route diversion
We kindly invite you to take a look at our
references
.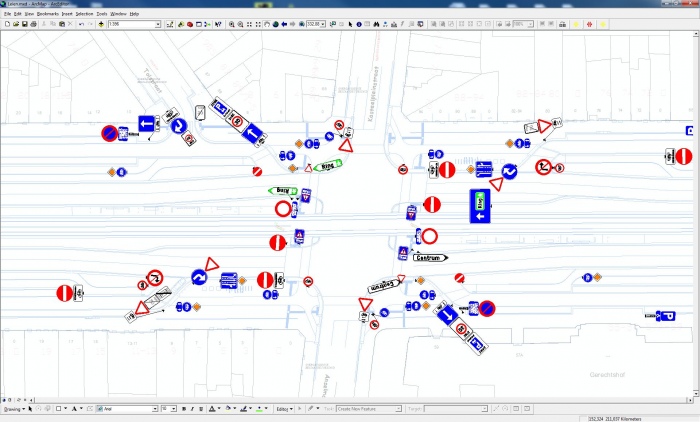 Parts
SImaD is fully integrated with a third-party
GIS-environment
GIS environment (GIS = Geographical Information System) and boosts a dynamic library module for the management of road signs. In addition to the standard libraries of road signs and icons, SiMaD prides itself on the seamless integration with the VSDesign software for the correct design of road signs. This integration offers the user the necessary tools to compose an installation of road signs in an intuitive but regulations compliant manner. All relevant data are saved per installation point in an external database, which makes them queriable at any point in time.  
SIMaD is available for the following GIS environments :
As an extension to ArcMap.
As an extension to OrbitGIS.
As a stand-alone product.
All SIMaD data can be edited in the different environments in a fully compatible way. Hence, the range of supported functions is identical in all environments.
A concice overview of available functions:
Compose installations starting from libraries.
Manage manufacturing data.
Link pictures.
Install on a map, pivot, relocate or remove.
Query data.
Search the saved data and set search filters.
Draw up a report containing a bill of quantities and a bill of materials of signs, supports and fastenings.
Save history.
Export to AutoCAD dxf.
Tablet PC module
Look up location data
You can compose any installation of road signs by picking any combination of road signs from the standard libraries or from the VSDesign design drawings library.
You do not need to dispose of the VSDesign software in order to be able to use road signs from a VSDesign library. Design drawings created in VSDesign can be freely exchanged between users and can always be imported by SiMaD users. However, editing the design is only possible with the VSDesign software.
If deemed appropriate, you can always make use of the services of our own design department for designing custom traffic signs.


Manage manufacturing data
The following manufacturing data can be managed:
Type of suspension
Clearance
Production type
Fitting
Reflection type
Manufacturer
Manufacturing date
Type and number of fastenings
Diameter, colour, position and length of the supports
Base dimensions
Surface type
A handy wizard helps you enter data more quickly by pre-filling data from the SB250 specifications.
Link pictures
One of more pictures can be linked to each installation of road signs.
The picture is displayed in the information summary of the installation.
Pictures can also be inserted on reports.
Install on a map, pivot, relocate or remove
First, an installation is composed with road signs picked from libraries and then the installation can be installed on a digital map. In the GIS environments SiMaD is integrated in, maps of various sources can be used:
Detailed base plans (e.g. GRB).
AutoCAD designs of newly constructed roads or redesigned roads.
Digital street plans.
Aerial photographs.
...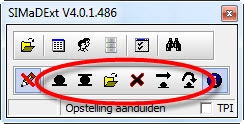 SiMaD has a handy toolbar to set up and edit installations.
Consult data
A simple click on an installation of road signs opens an information summary of all relevant database information available on the installation involved.
Search the saved data
The data saved in the database are modelled in such a way that you can use various ways to find installed road signs.
SiMaD disposes of a handy filter screen that helps the user to quickly build filters in an intuitive way. This way you can render on the map only a particular set of installations, matching the criteria of the filter you built.
These filters can for instance be used to print, export or report on a particular set of installations.
A few examples:
Find all installations containing road signs of the type F4a or F4b and hide the others that do not match these search criteria. This tool offers you a flexible way of restricting the number of installations to a particular zone.

Find all installed traffic signs that contain the inscription "Ring". Very handy for traffic managers who want to get a clear view of the routes traffic with a particular destination takes.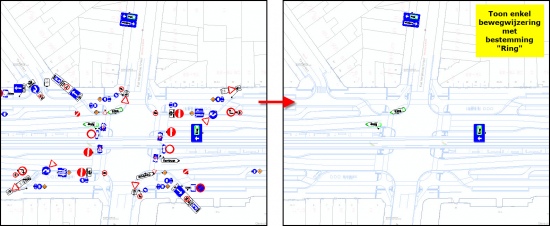 Find all road signs of a particular street.

Draw up a report containing a bill of quantities and a bill of materials of signs, supports and fastenings
Een rapport wordt steeds opgemaakt onder de vorm van een Excel-bestand en bevat volgende onderdelen:
The data saved in the database are sorted per installation. If appropriate a picture of the installation can be inserted in the report.
Per installation the bill of quantities debits are indicated for delivery and/or installation of the installation involved. These debits are determined in compliance with the regulations of the standard SB250 specification.
In case the installation contains historical information, based on the current status the bill of quantities debits for the planned status are indicated as well.
The bill of quantities debits are aggregated in the bill of quantities list so as to enable you to get a quick idea of the installation cost.
The materials are summarized in the bill of materials so as to enable you to order the necessary materials in time.
Click here for demo report.
Save history
SIMaD lets you build a history in an inventory database. If you build the inventory using the history function, you will always be able to reconstruct a particular traffic situation of a particular point in time.
If you work with history, you are able to design a future traffic lay-out (a "planned status"). This design will contain the changes that have to be applied to the current traffic lay-out:
New installations.
Installations to be removed.
Installation to be modified.
SIMaD has a handy screen to visualize these planned changes. Overview of the different possibilities:
| | | |
| --- | --- | --- |
| | | |
| New installation | Installation to be removed | Installation to be modified |
This design will be taken into account at creation of the report. The SIMaD software will draw up a report containing both the current and the planned status of the different installations. Both statuses will be taken into account for the calculation of the bill of quantities debits.
Click here to see a demo report of the design described above.  
Export to AutoCAD dxf
The whole polygon representation of the installations can be exported to an AutoCAD file. This dxf file can be easily imported in a CAD environment (AutoCAD, Microstation...). Very handy to exchange information with users who do not dispose of a GIS environment but who would like to integrate the road signs lay-out into their design.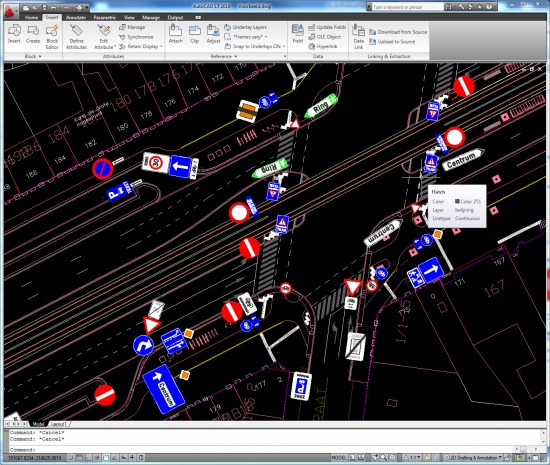 Tablet PC Module
Optionally, SIMaD offers an entry module for tablet PCs. This entry module uses character recognition enabling the user to enter data by simply writing on the screen of the tablet PC. The written text is recognized and directly transformed into the database.
This module has been designed for field work. A tablet is a light but powerful PC that is amply sufficient for using SIMaD and its GIS environment. This way the tablet PC enables the field worker to update directly an inventory of installations along the road.
No hassle with complex drop-down menus that have to be navigated in order to find the correct sign post or its manufacturing data. There is a whole set of abbreviations that can be used to speed up the entry work. You can edit or extend this list at will. While writing, the abbreviations are transformed into database information quickly and correctly.
We have also paid attention to the way digital photos are linked to installations. The module allows you to link a picture to an installation even before the picture is available (not yet uploaded from the digital camera, for instance).
The module also allows to work with blank road signs. This way road sings that do not yet feature in the available libraries, can still be entered with their manufacturing data. The picture can be used later to design the new traffic sign of design drawing. You will only need to replace the blank road sign afterwards with the new road sign, leaving the manufacturing data untouched. This procedure is automated to an advanced level in the optional inventory module.
Below a few examples of handwritten text that is recognized and transformed:
In these examples the following database information is written down and subsequently recognized:
The road sign D1f – diameter 700 is recognized in the handwritten text and is added to the installation from the libraries.
Production type SB250, reflective film type 2, manufacturer Baert, and manufacturing year 2005 are recognized in the handwritten text and added to the road sign from the libraries.
A support with a diameter of 76, of production type SB250, with a grey colour and a length of 2,96 m is recognized in the handwritten text and added to the road sign from the libraries.
A suspension of the type Support with a clearance of 1,25 m is recognized in the handwritten text and added to the road sign from the libraries.
Look up location data
Dynamic library module
SIMaD comes with an extended library of traffic regulations road signs in all kinds of dimensions – in compliance with the official rules and regulations. Our libraries have been continually updated with new traffic signs published in the Highway Code.
Our libraries contain currently 1255 odd symbols that have been
conveniently arranged into categories and libraries. They also contain an extended set of icons, traffic regulations road signs and symbols for construction site signs and traffic lights.
On top of that, you are not restricted to the libraries shipped along. SiMaD has an import module that allows you to extend libraries yourself:
Make a drawing of a custom road sign and/or icon in a CAD program.
Export this drawing to a dxf file.
And import this file into one of the SiMaD libraries.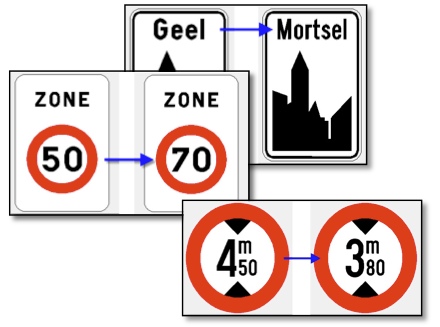 Furthermore, a great deal of the shipped road signs can be further adapted.. Using the Variant functionality you can easily change the inscriptions on a road sign.
All this results in a set of libraries that allow to map almost all traffic signs that can be found along our roads..  
The integration with VSDesign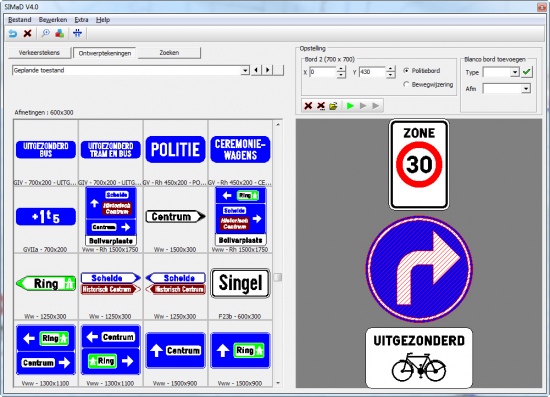 If you happen to stumble upon a traffic sign that is not in one of the standard libraries, you can always design it yourself. This can be done using the VSDesign software. In SIMaD you can always import these drawings and use them like you would use any other traffic sign from the standard libraries.
You do not have to dispose of VSDesign to do this. In SIMaD you can always importVSDesign design drawings that were made by other people who do dispose of a VSDesign user licence. Actually, DLW offers also the service of designing traffic signs.
Design of traffic signs in SiMaD [optional]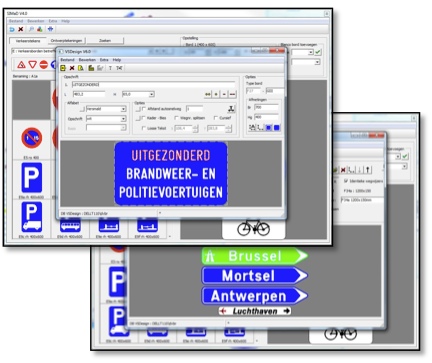 From SIMaD V4.0 and higher versions onwards you can design traffic signs directly in SiMaD. This is typically done on the fly when a user notices that a particular road sign does not feature in the standard libraries. This is the reason why SiMaD nowadays also offers a design module. This module enables you to design directional road signs, built-up area signs, get-in-lane road signs and supplementary road signs yourself in a fast but simple manner. A few mouse clicks and entering the correct inscriptions suffice to draw a compliant and clear drawing of a traffic sign. We have enabled this functionality in SiMaD by integrating the VSDesign functions partly.